This tutorial was written by me, Gems,
on January 19th 2012
Any similarity to any other tutorial is purely coincidental.
My tutorials are registered with Twinc
I am using the wonderful art of Suzanne Woolcott
You need a licence to use Suzannes work, which you can purchase through
this was written in PSPX and
assumes you have a good understanding.

The beautiful PTU kit i used from Irene Alexeeva called "YOU" - HERE
GemsMasks #220 by Me! from HERE
ok off we go!!

Open up a new transparent image 600 w x600 h

Open up any paper you want to use, i used paper03,
resize to 20% of original
paste as a new layer onto your main canvas
Open up the mask and minimise
go to layers-new mask layer-from image
find my mask 220
source luminance only selected
apply mask.
layers merge-merge group.

Open up Frame02 resize to 20% of original and paste as a new layer,
Place in the centre of the canvas.
add a small drop shadow to any elements you want as we go along.
I used 1-1-35-5
New Layer
Choose a colour from the kit and use the rectangle selection tool
and draw out a small thin rectangle,
use my finished tag for reference.
Floodfill the selected rectangle
Go to effects-texture effects-texture
and scroll through the textures untill you find one you like.
Play around with the percentage and the settings to see what you prefer.
apply the texture.
selections-select none.
Duplicate your rectangle layer and place them apart.
One above the other towards the top of the tag.
Use my tag for reference.
Go to your text tool and find a big bold font.
I used TEAM MT
set your background and foreground colours to white
text size to 100 and floating
New Layer,
Write 'HEARTFELT' leave the text floating,
Open up paper04 and resize to 20%
Copy and Paste as a new layer.
Make sure your new paper is active in the layer palette,
selections-invert-delete,
Selections-select none.
You should now have 2 layers with text,
one is a paper(TOP) and one is white only.(BOTTOM)
Use your pick tool and move the white text slightly
to give the text a slightly 3D/hi-lighted look.
Add a drop shadow to the white text layer.
Make the paper text layer active,
layers- merge-merge down.

Now open up both the glitters and resize to 20%
Paste them onto your canvas drop them slightly over the edges of your frames and rectangles
this adds depth to the finished tag.
Open up frame03 and resize to 20%
Paste as a new layer
Place towards the bottom of your canvas
add a drop shadow as before.
New Layer,
Use your rectangle selection tool
draw around the centre of the outside of the frame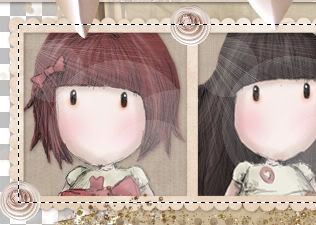 Open up another paper and resize to 20%, I used paper06
or flood fill with a colour of choice,
With the paper layer active,
selections-invert-delete
selections-select none.
Back to your rectangle selections tool.
Select around the first box in frame03
open up 3 different tubes or images
paste the first as a new layer,
place it inside the first frame opening,
when you are happy,
selections-invert-delete
LEAVE SELECTED
selections and invert again
Now go to effects-illumination effects-sunburst
apply these settings.
♥



selections-select none
Do the same with the remaining 2 tubes,
add the tube and then the sunburst effect.
I added some roses and paper hearts to the tag,
i resized to 20% and then used the pick/distortion tool
to resize further if i felt it needed it.


Make the top layer active
I opened up a further 2 tubes and resized them to 75% of the originals,
paste them on your tag.
I had them so that they were 'standing' on the bottom of the frame.
See my finished tag for reference
Add the same drop shadow.
Add your name, i used font pea da lovely damanda
i had the forground set to a pale colour from my tube,
and the background set to a dark colour
Stroke width set to 2
Add your name and your ę and licence info
layers-merge-merge visible



Thats it, your done.
Save as a PNG.


Hope you enjoyed this little tut,
Any problems just shout

Hugs Gemsxx


♥


ArtworkęSuzanne Woolcott www.gorjuss.co.uk SW521 Gems2012